News has come out recently about a video of Donald Trump and reality TV show, Apprentice director, Billy Bush making sexist remarks about women. One of these remarks from Donald Trump was about "grabbing them by their pussy" or something to that effect. Many people particularly those in the GOP base were disgusted by such remarks to the point that many of them have withdrew endorsements from Trump/Pence campaign. However, I am also disgusted by reports of Bill Clinton's womanizing ways and society's upholding of misogyny as well as my disgust over Donald Trump's sexism. Hence the implication that the culture of misogyny and sexism goes beyond the antics of Donald Trump and Bill Clinton.
Though much progress has been made in advancing women's rights, there is still a long road to go to ensure that women are equally represented in the media, treated respectfully and given economic, social and power clout to further advance their goals. Gone are the days when the only occupations women were expected to occupy was marriage and motherhood. But women are still paid less than man for performing the same job. Women are still held to higher yet unfair standards when it comes to attire they wear and the choices they choose to in life. Yet men aren't held to these same standards and can get away with anything. The blatant misogyny in society that lets men especially powerful and wealthy men like Donald Trump and former president Bill Clinton will be discussed and dissected.
Real estate broke and current GOP candidate for president, Donald Trump has a long history of being sexist towards women. Trump was quoted on Howard Stern's show that, "it is very hard for a person with a flat chest to be a 10". He has called Rosie O'Donnell, fat, a slob, disgusting with a fat, ugly face especially after Rosie O'Donnell pointed out his mistreatment of a Miss Universe contestant, Alicia Machado twenty years ago. In a Rolling Stones' magazine, he criticized the appearance of one of his opponent's, Carly Fiorina implied that she wasn't attractive enough to be elected, ""Look at that face! Would anyone vote for that? Can you imagine that, the face of our next president? I mean, she's a woman, and I'm not supposed to say bad things, but really, folks, come on. Are we serious?" He also implied that Megyn Kelly was menstruating during the first Republican primary because of how forcefully she supposedly asked questions at the event. His treatment of 1996 winner of the Miss Universe winner, Alicia Machado was disgraceful. Trump nicknamed her, "Miss Piggy" and called her an "eating machine" and the "incredible hulk" after she had gained weight after she won the title. Hopefully, Hillary Clinton brought up his mistreatment of Alicia Machado at the first presidential debate to discuss his sexist rhetoric towards women. Worst of all, he made a comment saying that pregnant women were an inconvienence to the workplace. Why should a woman such as myself  elect a man who sees me as less due to my gender?
How can a man who looks like this harshly judge the appearance of women?
Here is the leaked video where Donald Trump was exposed saying some sexist remarks about women
His mistreatment of women also transcends to the way he treats the women in his life. Donald Trump was married to his first wife, Ivana Trump from 1977 to 1991. He has three children with Ivana: Eric Trump, Donald Trump Jr. and Ivanka Trump. Trump notoriously cheated on Ivana publicly with his mistress, Marla Maples. In fact, there was even a clip of Ivana and Donald Trump on the Oprah Show where he said that Ivana "does what I tell her to do". But that wasn't enough to curtail his rampant cheating. Eventually, he divorced Ivana and married Marla Maples after she had their daughter, Tiffany. When he divorced Marla Maples in the late 1990s, there was a rumor that he was cheating on Marla Maples with his current wife, Melania Trump. These days, he is married to Melania Trump and has a ten year old son with her, Barron. Worst of all, the way he objectifies his eldest daughter, Ivanka is disgusting to say the least.
Here is a video where he says that his first wife, Ivana "does what I tell her to do":
Donald Trump and his first wife, Ivana
Donald Trump and his second wife, Marla Maples
He even went as far as to sexualize his youngest daughter, Tiffany when she was a baby in this clip with his second wife, Marla Maples. He said that baby Tiffany had "Marla's legs" and that he wasn't sure if she would grow her breasts yet. Disgusting:
Donald Trump and his current wife, Melania Trump
His relationship with his eldest daughter, Ivanka Trump is the creepiest out of them all. There was a picture of a young, teenage Ivanka sitting by her father. She puts her arm over his chin in a rather seductive way. I have always felt that this picture of the two was inappropriate for a father/daughter to put out to the world. Worst of all, he said that it she wasn't his daughter, that he would date her. In a Howard Stern interview, he was quoted saying that it was okay to call Ivanka a piece of ass. Fortunately, he doesn't objectify his younger daughter, Tiffany Trump(daughter he had with his second wife, Marla Maples) the same way but she is often times overlooked.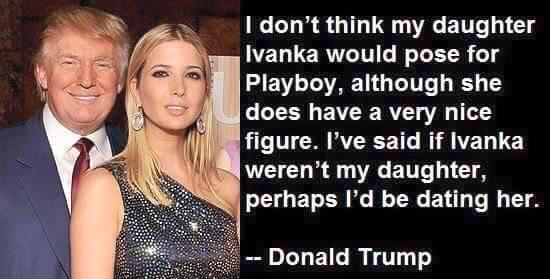 Former president and husband of Democratic nominee for president, Hillary Clinton , Bill Clinton doesn't have the best track record with women either. He was impeached in 1998 for lying about his affair with Monica Lewinsky. But he was cheating on Hillary for years prior to that whole situation in the 1990s. He has a long line of accusers, dating back from the 1970s, accusing him of rape and sexual assault. Hillary Clinton has been accused of covering up and silencing his victims in order to face save. In fact, reading an article online opened me up to the nature of Bill Clinton's psyche. Britney Spears decided to meet Hillary Clinton in Las Vegas for summit. Bill Clinton was oohing, awing and gawking at Britney Spears the whole time to the point that Hillary had to sit between the two. Considering the fact that Britney Spears is a conventionally attractive woman, it isn't shocking that he reacted the way that he did. However, it gave me a glance into a womanizer, who doesn't have much shame and lusts after women he likes attractive. Though there isn't a leaked video of Bill Clinton talking about "grabbing women by their pussy", he isn't much different from Donald Trump in the way he treats and regards women.
Society values youth and beauty in women. Once a woman is past her prime and her looks wither, society doesn't find much use in her anymore. Women are held to high and unfair standards due to the fact that we still live in a society that favors men. Especially when a man is famous and wealthy. Men can get away with being overweight, unattractive and less appealing while women have to look beautiful always. That is why unattractive and sexist men like Trump can spew their sexist rhetoric and object women the way he does. And that is why Bill Clinton was able to get away with womanizing and sleeping with various women behind Hillary's back for years. Despite much of the gains made in society, we still live in a sexist society that continues to degrade and put down women.
The topic of sexism and mistreatment of women goes beyond Donald Trump and Bill Clinton. There are many other men besides them that objectify and disrespect women but aren't famous or wealthy. Hopefully, more progress is made in protecting and respecting women's rights and autonomy in the future. Though Bill Clinton and Donald Trump isn't the first and will not be the last man to be womanizers, sexism will be a problem unless something is done to eradicate it.
Links to the page:
http://www.politifact.com/truth-o-meter/article/2016/sep/28/who-alicia-machado/
http://www.sfgate.com/entertainment/the-wrap/article/Donald-Trump-OK-d-Howard-Stern-to-Call-Ivanka-a-9957586.php
http://www.vanityfair.com/hollywood/2016/02/hillary-clinton-britney-spears-las-vegas